Version history is available in the bottom of this page,
Make sure to clear any cache and hard refresh your browser after update the theme.
Don't have a time to install the theme? Simply contact us with your URL and WP-Admin login details after purchasing the theme, our team will help you to install and setting up your site same as our demo website for free.
Starting from version 1.1.0 – Now you can disabled/enabled the Ajax feature, incase you need to use heavy plugins and elementor modules that not compatible with Ajax.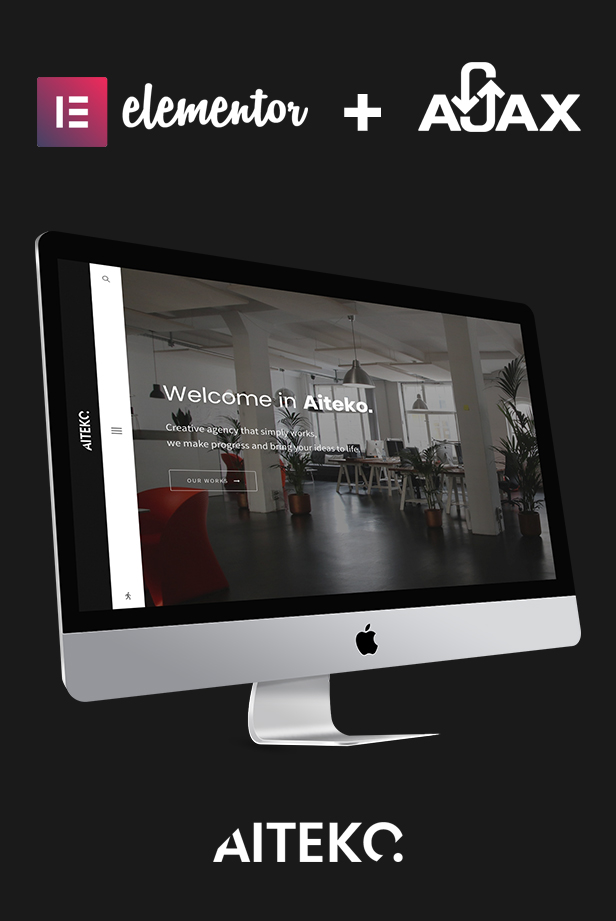 Custom portfolio effect
About Aiteko
Aiteko is a WordPress Theme for Creative, Agency, or Artist who want to showcase their work in professional way. Aiteko comes with Ajax + page transitions, 2 Portfolio listing style, masonry blog, autoload pagination, custom skins and many more. Build your content beautifully with Elementor visual page builder.
Features
WordPress 5+
Elementor visual page builder
One click demo import
Fully ajax + page transitions
Responsive
Smooth mobile experience (try it!)
2 Portfolio listing style. Also included as custom elements in Elementor widgets
Custom skin, change the color as you want!
Typography settings
700+ Google fonts
Masonry blog
Customizer api
.pot file included for translation
Documentation
Credits
All images in demo are from unsplash.com and pexels.com
Changelog
Current version 1.1.2

Version 1.1.2 (Feb 23, 2019 AEST)
- Fix on mobile the content is not appear
- Ready for WP 5.1

Version history

Version 1.1.1 (Feb 20, 2019 AEST)
- Ajax is awesome, but only limited plugins and elementor modules that compatible with AJAX. In case you need some heavy plugins and modules, disabled the ajax feature might reduce the compatibility issue. Access the settings in "Customise > Elements" 
- Remove the smooth scroll option, and use custom scroll that use default browser scroll event.

Version 1.1.0 (Feb 19, 2019 AEST)
- Errors on update, fixed in version 1.1.1

Version 1.0.9 (Feb 16, 2019 AEST)
- Fix hash on URL not working
- Fix alignwide and alignfull class not styled properly after browser refresh

Version 1.0.8 (Feb 13, 2019 AEST)
- Fix issue with some 3rd party elementor addons, that use 'document ready' event to trigger their widgets. This is causing some elements from the addon not showing up when accessing the page via Ajax.

Version 1.0.7 (January 29, 2019 AEST)
- {Important Update} Fix bug on old browsers that doesn't support Javascript ES6, eg (iPad Air, iPad mini, etc) - Many thanks to @glossltd for reporting this bug

Version 1.0.6 ( January 24, 2019 AEST )
- Fix bug: side menu does not close when people click the menu before animation completed
- Feature request: disabled the preloading, access the settings in "Customize > Elements" 

Version 1.0.5 ( January 24, 2019 AEST )
- Fix minor bugs with Elementor 2.4.3

Version 1.0.4 ( January 23, 2019 AEST )
- Fix issue with custom elementor portfolio widget crashed with the default Elementor Pro widget
- Fix Elementor youtube video background sometimes not loaded

Version 1.0.3 ( January 22, 2019 AEST )
- Fix link inside WP media player detected as ajax link
- Fix issue with logo shrink too small in sidebar (make sure to re-setting your logo)

Version 1.0.2 ( January 21, 2019 AEST )
- Fix link with "mailto" and "tel" not working properly
- Fix issue with portfolio grid style not show up when yearly info are empty
- Compatible with Contact Form 7

Version 1.0.1 ( January 21, 2019 AEST )
- Add smooth scroll option, access the settings in "Customize > Elements" 
- Fix some minor bugs with some Elementor widgets